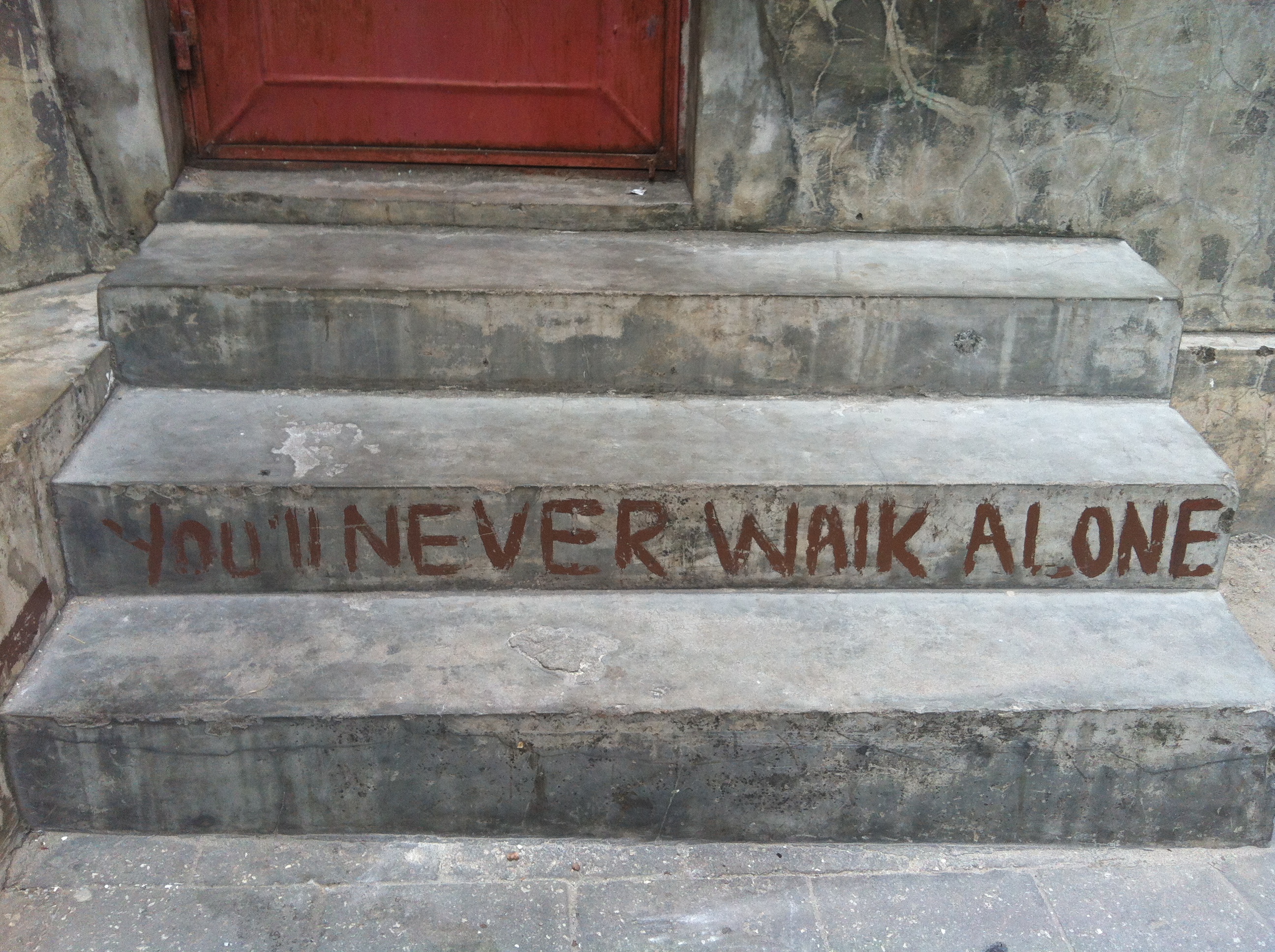 You'll never walk alone. Somewhere, unexpectedly a graffiti pops up in the streets of Stone Town. When I used to walk from Kokoni to Hurumzi, for example, suddenly on this stair, often unnoticed, I saw the writing: You'll never walk alone. True to the point. You do not walk on your own in Zanzibar, and never unnoticed either. In our book "From Sansibar with Love" Ahmed says  – we are right into our third year of togetherness: "In our culture lovers do not show affection in the streets. You don't touch, and kissing would be a real faux-pas. But Sansibari have very good antennas, they notice just from the chemistry between two people if they have an affair."
In German it goes like this:
Ahmed sagt:
Ich bin froh, wie sich das inzwischen mit Andrea entwickelt hat. Es ist eine viel größere Selbstverständlichkeit in unsere Beziehung getreten. Wir haben in diesem Jahr weitaus mehr Zeit zusammen verbracht als vorher, eigentlich jeden Tag, und wir haben praktisch unter einem Dach gelebt. Die meisten wissen jetzt, dass wir ein Paar sind. Man sieht uns schließlich überall zusammen, obwohl man sich als Pärchen in der Öffentlichkeit auf Sansibar zurückhält. In unserer Kultur ist Körperkontakt auf der Straße einfach nicht üblich. Küssen wäre ein echter Fauxpas und Händchenhalten eigentlich auch schon daneben, eng umschlungen zeigt man sich schon gar nicht. Aber die Sansibari haben so feine Antennen, dass sie allein an der Chemie zwischen Mann und Frau auf der Straße erkennen, oder zu erkennen meinen, ob die beiden etwas miteinander haben. Dann wird Radio Kifua, das Gerüchteradio, wieder ganz groß aufgedreht.